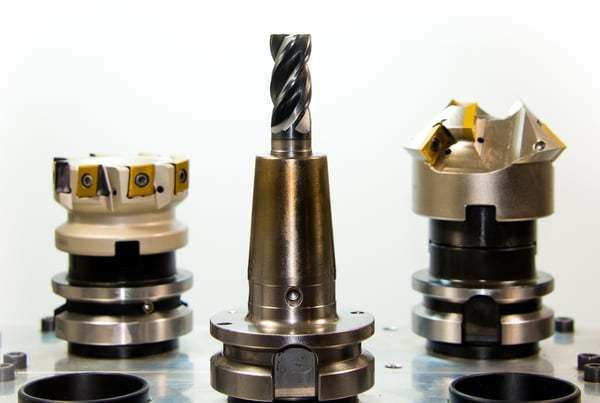 CNC vertical milling uses automated processes to control specialized rotary cutting tools that remove material from a workpiece's surface. Manufacturers use CNC vertical milling to both form a workpiece and to create detailing on its surface. It's most often used to cut small holes and notches and to create three-dimensional products. These machines' vertical spindles also make them great for drilling and plunging cuts.
Vertical CNC machines offer users the ability to manufacture custom solutions to precise specifications. This results in machined components that are:
Elegant
Innovative
Functional
Cost effective
Advantages of Vertical CNC Milling
Using vertical milling machinery offers many advantages over horizontal milling techniques, including:
Vertical milling machines typically cost less than their horizontal counterparts
Lower upfront costs result in lower overall costs, making your products more popular with customers
Vertical milling machines tend to be much easier to operate than horizontal options—many vertical milling machines feature user-friendly controls to allow for quicker production turnout and simpler programming
Vertical milling machines provide increased workpiece visibility over horizontal setups, allowing users to work on greater portions of the workpiece at a time and benefiting slower projects that require a higher degree of attention
Vertical milling machines allow for greater project flexibility and diversity—users can work with a wider variety of shape and size configurations than with horizontal setups
Thanks to recent advances in CNC milling technology, vertical CNC milling machines can perform functions far beyond the capabilities of traditional metal cutting and fabrication techniques. Vertical milling machines can also simplify and expedite processes that historically required large amounts of time and manpower to complete.
While many tasks and processes benefit from using vertical milling machines, a few of their most widespread tasks include:
Grinding
Grooving
Punching
Engraving
Tapping
Texturing
Threading
This range of capabilities translates to a diverse field of projects that stand to benefit from using vertical CNC milling for their production processes. Vertically milled components can now meet much more detailed specifications than what previous generations of equipment can achieve.
CNC Parts for Diverse Needs
Because vertical CNC mills can produce both simple and complex components of many shapes and sizes, they see use in a variety of industries. Industries that must adhere to stringent production regulations especially benefit from CNC machinery's high precision capabilities. Because of their unfailing consistency, vertically milled parts appear in many different fields:
Electronics: CNC machines build many of the parts on computer motherboards as well as much of the other intricate hardware that makes up electronic items (such as metal slats and panels, minuscule wires, and engraved numbers)
Industrial: CNC machinery can create many of the industry-specific machinery and tooling used in a wide array of manufacturing processes
Construction: Vertically milled components form the base of many types of construction tools and fasteners
Automotive: Vertically milled parts are the cornerstone of shafts, pins, gears, brackets, and many other automotive components
Food and beverage processing: CNC milling can create a wide variety of food containers—especially cans, because CNC machines can build both their cylindrical bodies and the tabs to open them
Transportation: Heavy shipping equipment relies on CNC-produced parts to secure products and personnel during transportation
Agriculture: CNC machinery builds gates for livestock as well as parts on harvesters and other farm equipment
Jewelry: Small-scale CNC machining executes much of the inscription work used by jewelers
Aerospace: Vertically milled products appear in engine and steering equipment as well as onboard accessories; aerospace manufacturers in particular favor CNC machining thanks to its five-axis capabilities that allow CNC milling machines to cut through otherwise difficult materials like Inconel
Firearms: The pins, barrels, plates, triggers, ammunition clips, and etched parts of a firearm can all be engineered via CNC machining
Manufacturing: Any application involving assembly or production lines relies on CNC machining at all or some points of the process
Discover CNC's Possibilities at Ardel Engineering & Manufacturing
Ardel Engineering & Manufacturing, Inc. specializes in precision CNC machining, Swiss screw turning, and wire EDM cutting/assembly. We're constantly adding new and innovative equipment to our space to improve the quality and consistency of the parts we offer.
We aim to exceed our clients' expectations and create products of the highest quality. Contact us or request a quote today if you would like to learn more about what Ardel can do for you.