At Ardel Engineering, we utilize both horizontal and vertical CNC machining centers to create precision components from various metals, plastics, ceramics, and composite materials; these include:
UHMW
Brass
Steel
Castings
And aluminum forgings
While many machine shops utilize only one type of milling center, our horizontal and vertical milling centers provide very different sets of advantages. The optimal choice for your project is very dependent on the shape, machined features, and volume of the part, and we have found that using both types of equipment makes us much more versatile and efficient than having a single mill type.
>> Read more about our CNC capabilities
Vertical Machining Centers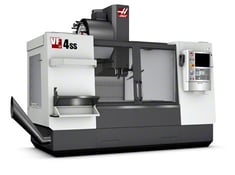 Vertical milling centers are called such because the spindle is oriented vertically. This type of machining center is the most commonly used piece of CNC machining equipment, and is the optimal choice for many short run applications.
Vertical machining centers are the simplest CNC mills to program and workholding is typically straightforward without the need for any specialized fixtures.
Many of our CNC machining centers are also equipped with pallet changers, allowing operators to prepare the next load for the mill during prior to completion of the machining cycle, which minimizes changeover times.
Horizontal Machining Centers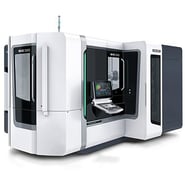 Horizontal machining centers are ideal for applications that call for pocketing and facing because the chips are much easier to remove quickly. This advantage is a result of the horizontal spindle orientation and allows us to machine at higher speeds, increasing production efficiency for parts that require large volumes of material removal.
Our Equipment & Machining Capabilities
In addition to these two types of machining centers, our facility offers eight different models of equipment, totaling 23 milling centers, providing even more manufacturing flexibility. Our engineers select the ideal equipment for an application based on the geometry, material, and volume of the part being machined to provide customers with premium quality parts at the best possible price.
We are able to hold very tight geometric tolerances for diameter, true position, profile, and flatness. Our milling machines also offer through the spindle coolant and Renshaw Touch probes. They also have tool setters that can be used for tool breakage detection for longer run parts. The lead time for prototype parts typically averages 2 to 3 weeks, while production runs average 4 to 6 weeks. Rush services are also available to accommodate emergency situations as needed.
Learn More
For additional information about our CNC milling capabilities, please refer to the specification table posted below, or learn more by clicking the following links:
Specification Table
Milling Equipment
2 Mori Seiki NHX 5000 HSC HMC, 20,000 RPM, 28.7" x 28.7" x 34.6," 15 HP
5 Haas VF4 SS VMC, 50" x 20" x 25", High Speed 12,000 RPM, 30 HP
4 Haas Super VF-4SS APC VMC with pallet changer, 50" x 20" X 25", 12,000 RPM, 30 HP
4 Haas VF-4 APC VMC with pallet changer, 50" x 20" x 25", 10,000 RPM, 20 HP
2 Fadal VMC 4020 with pallet changer, 20" x 40", 15,000 RPM, 15 HP
4 Haas HA5C Auto Digitized Indexer
1 Haas HRT310 Auto Digitized Indexer
1 SMW Sys 40 Auto Digitized Indexer
Tolerances
Diameter down to .0002
Profile down to .0015
Positional down to .0014
Flatness down to .002 overall (.0002 inch per inch)
Materials (Metals)
Alloy Steels
Aluminum
Austenitic Stainless
Brass
Bronze Alloys
Carbide
Carbon Steel
Cobalt
Copper
Die Cast
Iron
Lead
Magnesium
Martensitic Stainless
Nickel
Stainless Steel
Stellite (Hardfacing)
Tin
Titanium
Zinc
Materials (Exotic & Precious Metals)
Gold
Inconel
Invar
Iridium
Kovar

™

Molybdenum
Monel
Niobium
Palladium
Platinum
Silver
Superalloys
Tantalum
Materials (Plastic Polymers)
Acrylonitrile Butadiene Styrene (

ABS)

Acetal
Acrylic
Delrin

®

Fiberglass Reinforced Plastics
Nylon
Phenolic
Polyamide-Imide (Torlon

™)

Polycarbonate (PC)
Polyetheretherketone (PEEK)
Polyetherimide (PEI)
Polyethylene (PE)
Polyphenylene Sulfide (PPS)
Polypropylene (PP)
Polystyrene (PS)
Polysulphone
PolyTetraFluoroEthylene (

PTFE)

Polyvinyl Chloride (PVC)
Polyvinylidene Fluoride (PVDF)
Materials (Other Materials)
Ceramic
Composite Materials
Fiberglass
Glass
Graphite
Polyester
Lead Times Available
Prototype: 2-3 weeks (typical)
Production: 4-6 weeks (typical)
Quoted on job by job basis
Emergency services available
Rush Services Available
Industry Standards
ANSI
American National Standards Institute
AS 9001
Aerospace Industry Standard
ASME
American Society of Mechanical Engineers
ASTM
American Society for Testing and Materials
AWS
American Welding Society
CSA
Canadian Standards Association
DOT
Department of Transportation
FDA
Food And Drug Administration
ISO 9001:2008 (certified)
ISO 13485 (certified)
International Organization for Standardization
Mil-Spec
Military Specifications
NADCAP
National Aerospace And Defense Contractors Accreditation Program
QS
QS Is a quality standard developed by the Automotive Industries.
RoHS
Restriction Of Hazardous Substances (Compliant)
SAE
Society of Automotive Engineers
ITAR (certified)
International Traffic in Arms Regulations
TS
Technical Specifications, used with ISO
Efficiency
Six Sigma Practices
Lights Out Manufacturing
Lean Manufacturing