Ardel Engineering and Manufacturing, Inc. is a leading provider of precision CNC machining, Swiss screw turning, wire EDM cutting, and assembly services for the aerospace industry. As a result, we have observed how the ongoing COVID-19 pandemic and other factors have highlighted certain issues within the aerospace manufacturing process. Below is a closer look at some of the different challenges to aerospace parts manufacturing and several solutions that can best address them.
Challenges to Aerospace Parts Manufacturing
While all types of manufacturing require a fair amount of precision and attention to detail, the aerospace industry demands the highest level of precision possible. Aircraft components must be able to withstand volatile atmospheric pressure, temperature ranges, and other elements that may cause extreme stress to the vehicle. This makes it extremely important that aerospace parts be carefully manufactured to their exact specifications.
Common challenges faced when manufacturing aerospace components include:
Quality and Cost of Materials
Aerospace parts typically require higher grade materials that comply with strict industry standards and can withstand the rigors of various aerospace applications. Manufacturers must have a strong understanding of these materials and have the capabilities to work with them. Another challenge is the cost of materials. With the COVID-19 pandemic causing disruptions to the global supply chain, many manufacturers are facing cost increases for aerospace materials.
Low Demand
There has been a significant reduction in passenger traffic due to the ongoing COVID-19 pandemic. With many countries implementing travel restrictions, there has been a sharp decrease in the demand for aircraft components. The commercial airline industry is expected to recover slowly; however, demand for military aircraft is expected to remain stable.
High-Volume Production
High-volume production of aerospace parts often comes with a sacrifice in precision. To ensure the highest level of quality and accuracy, it's best to work with a manufacturer that specializes in low- to mid-volume production, as this allows them to focus on crafting each component to the needed specifications rather than meeting a specific quota.
Quality of Manufacturing
Aerospace parts involve highly complex and precise designs made from durable materials. As a result, aerospace manufacturers must meet certain requirements and qualifications during the machining process. If any of the following three components are compromised, it could lead to serious manufacturing quality issues:
Certifications. Manufacturers should only use materials that are certified for use in aerospace parts. They should also understand the best way to manufacture precision parts and maintain industry certifications, such as ISO 9001, to showcase their ability to meet certain quality standards.
Process. It can be challenging when working with a manufacturer who lacks an established workflow. Having a well-defined manufacturing process ensures that the manufacturer can repeatedly create precion parts. Manufacturers with CNC machining processes are especially well-suited to deliver precise parts with complex geometries.
Engineering. A highly skilled engineering team must be involved in the manufacturing process to ensure each part is of the utmost quality and created according to their detailed CAD specifications.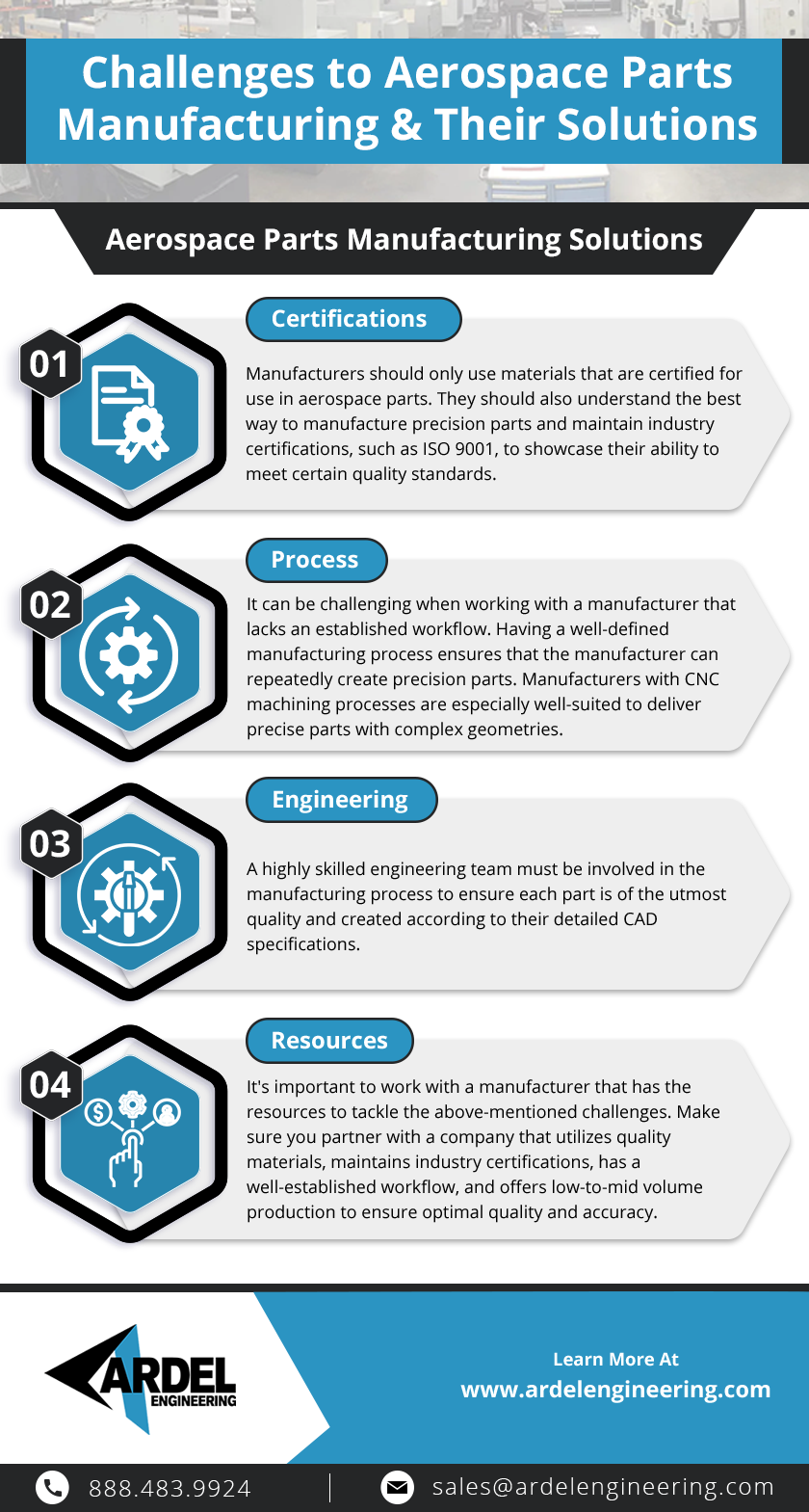 Other Solutions to Aerospace Parts Manufacturing
The aerospace industry has grown to be one of the largest manufacturing industries in the world over the last century. As it has evolved, aerospace engineers and other people in the workforce have gained valuable knowledge and experience. Now the challenge revolves around how to embrace innovation and encourage collaboration across multiple generations while also preserving that core knowledge.
While companies in the manufacturing and industrial space have evolved and incorporated major technological advances on their shop floor, such as artificial intelligence and robotics, many have been slower to leverage digital tools in their sales and marketing departments. The aerospace sector is expected to undergo a complete overhaul over the next 20 years, with an estimated 40% of future aircraft deliveries going toward replacing aging fleets with more innovative and fuel-efficient solutions. However, some aircraft operators may delay replacing their aircrafts to take advantage of depressed fuel costs.
To ensure precise aerospace components that meet the demands for more innovative, fuel-efficient, and technologically advanced solutions, it's important to work with a manufacturer that has the resources to tackle the above mentioned challenges. Make sure you partner with a company that utilizes quality materials, maintains industry certifications, has a well-established workflow, and offers low-to-mid volume production to ensure optimal quality and accuracy.
Aerospace Parts Manufacturing from Ardel Engineering and Manufacturing
Although there are several challenges in the aerospace industry, the right manufacturing partner can anticipate potential issues and provide tailored solutions that will produce the highest quality parts possible. At Ardel Engineering and Manufacturing, we work with quality materials and innovative techniques to deliver precise parts for the aerospace industry. We also maintain our ISO 9001:215 certification to ensure optimal quality and industry compliance.
To learn more about how we tackle the challenges present in aerospace parts manufacturing, or for more information about our capabilities, contact us or request a quote today.