To become part of the aerospace industry, companies must attain several certifications and registrations that attest to stringent quality management at every level of the manufacturing process.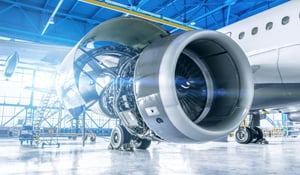 What Is Aerospace Manufacturing?
Aerospace manufacturing produces parts for aircraft, missiles, and spacecraft. While aerospace fabrication shops may employ many of the same techniques and equipment as other manufacturing operations, aerospace parts manufacturing requires next-level quality standards and considerably more administrative overhead. To become part of the industry, companies must attain several certifications and registrations that attest to stringent quality management at every level of the manufacturing process to ensure the components meet the standards and tolerances required.
The Aero Supply Chain
The supply chain is a complex ecosystem of diverse suppliers. While a critical component of many industries, it is especially important to the aerospace manufacturing industry. Well planned and executed supply chain strategies increase value to the customer through higher quality standards, mitigated risks, improved efficiency, and lower costs for the manufacturer. It also offers many more location possibilities for the aerospace production facility.
There are several key parts of the aerospace engineering and manufacturing industry supply chain, including:
Raw materials:

To fabricate aerospace parts, you must have a reliable supply of raw materials such as aluminum, titanium, composite materials like carbon and boron fibers, and even electricity. Maintaining relationships with suppliers is important, as finding new sources could take a year or more.

Risks:

Risk mitigation from a variety of sources such as design changes, product demand, materials pricing, political unrest, and natural disasters is vital to preventing disruption to the flow of materials all along the supply chain. Many companies join in risk-sharing partnerships to collaborate on risk mitigation and revenue sharing.

New technologies:

Aerospace manufacturing technologies can streamline and optimize many processes, including inventory management, transportation management, supplier management, accounting, shipping, and more. It can efficiently collect and assimilate data for data mining and analysis that can forecast emerging issues, uncover roadblocks, and track key performance indicators.

Skilled workforce:

Workforce management for the aerospace sector takes long term planning to support the day one needs and increased demand as the company grows. Considerations include where to find qualified local candidates, if relocation is necessary, and the type of training needed, among many others.
Requirements to Becoming a Successful Aerospace Machine Shop
Several requirements must be met to become a successful aerospace manufacturer.
AS9100D or ISO 9001:2015 Requirements
Aerospace manufacturing facilities must have a sound quality management system certified to AS9100D, based on ISO 9001:2015, the international management standard for the aircraft, space, and defense industry. AS9100 registration gives the assurance that the products produced meet stringent quality, conformity, safety, and reliability metrics. The AS9100 audit ensures facilities are certified to both AS9100D and ISO 9001:2015 standards.
Certifications
ITAR:

The

International Traffic in Arms Regulations

is a set of guidelines by the U.S. State Department. They outline the compliance requirements for the U.S. in the sale, manufacture, and cross-border trade with Mexico for items and technology on the U.S. Munitions List for the aerospace and defense industries.

AS9102 First Article Inspection Reports:

Many companies comply with the AS9102B First Article Inspection standard as a way to comply with the verification requirement for new or revised parts. Inspection of the first part from a lot confirms the processes, documentation, and tooling used to meet all requirements.

ISO:

The International Organization for Standardization certifies that systems, processes, and documentation procedures meet the standard for quality and consistency. In the aerospace industry, adherence to ISO standards ensures the safety of aircraft occupants. The AS9100 standard includes parts of the ISO 9001 standard but has more specific requirements for aerospace manufacturers.
Certified and Quality Equipment
An aerospace manufacturing shop must be up to date with the latest advancements in machining technology and equipment. CNC machines, multitasking equipment, and automation, such as a flexible manufacturing system, are all parts of a technologically advanced machine shop. High-quality equipment and even live tooling by high-end journeymen machinists can also be part of the fabrication for the aerospace industry.
The net effect of the certifications, registrations, and high-quality equipment combined with excellent internal operations are cost-effective and reliable solutions with on-time part delivery.
Aero Engineering & Manufacturing From Ardel Engineering
The aerospace industry demands the highest level of quality and precision from the manufacturers of parts and components. Ardel Engineering uses the most innovative tools and techniques for manufacturing precision parts within a strict climate-controlled environment to build products to tight tolerances. For more information on our ITAR registered, ISO 9001:2015 certified facility, contact us today or submit a request for quote online.