With all the options available for manufacturing customers in today's business environment, it's important to find out which companies offer industry-guaranteed best quality practices. One of the most reliable methods is ISO certification.
At Ardel Engineering, we are now in our 12th year of successfully passing annual ISO audits. These ISO audits certify that we are operating at the industry's highest levels, allowing us to provide premium quality precision machined parts for industries that include aerospace, medical, defense, transportation, OEM food service, and more.


Multiple Procedures for Documentation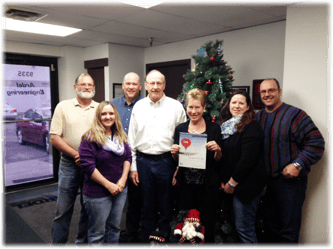 Maintaining certification for ISO 9001:2008 and ISO 13485 isn't easy. It requires a strong degree of diligence in a range of areas, including excellent documentation control. Some of these procedures include:
Control of documents

— This tracks how companies approve, identify, update, or change important documents used in conjunction with manufacturing.

Control of records

— Records that prove that a company's products are acceptable for use must be maintained.

Internal audits

— Companies must maintain a Quality Management System to ensure performance and planning are occurring at the highest levels.

Control of non-conforming products

— Controls must be established to ensure that non-conforming products are not distributed.

Preventative actions

— Processes must be in place to prevent non-conformities before they occur in the first place.

Corrective actions

— Processes must be in effect to ensure that any non-conforming products that do occur are found and corrected.
There are a number of commonly documented procedures, including the following:
Purchasing

— Documentation detailing the information that is required both about and from the supplier must be provided.

Design

— All design changes must be controlled and approved.

Production and service

— Service must be tracked from initial order to completion in order to ensure that all customer requirements are met.

Monitoring and measurement

— All equipment used to measure and validate a customer's products must be calibrated.

ITAR Registration, Too
Not only are we in our 12th year of ISO registration, but we are also registered with International Traffic in Arms Regulations (ITAR). Registration with ITAR certifies that we are allowed to build a number of important key parts for the military that non-ITAR-registered companies cannot produce. Key components of ITAR registration include maintaining ITAR policies regarding imports, exports, and sales to and from specified countries around the world.


Innovative Solutions for Complex Applications
Some of the industry's best-known and most prestigious aerospace companies rely on us for our precision-machined solutions. Our screw machining capabilities allow us to produce machined parts in quantities from 25 to 10,000 with a 4-6 week lead time. It is possible to expedite this to 2-3 weeks depending on requirements.
Find out what our tradition of quality really means; to learn more about how we can put our ISO-certified capabilities and processes to work for you, contact us today.