Aluminum once made up the bulk of the material used in aerospace applications. Aluminum accounts for as little as 20% of the materials used in a typical jet today, however. Composite materials, carbon-reinforced polymers, and honeycomb materials are increasingly seeing usage across the aerospace industry because of the demand for lighter-weight aircraft.
Other requirements – such as the capability to withstand high temperatures and pressures, and resistance to corrosion – have brought other materials that were previously consider impossible for use in the aerospace industry to the fore.
Aluminum for Aerospace Applications
Though its use has declined for many aspects of aerospace production, aluminum remains widely used in modern aircraft. For many specific purposes, aluminum still remains the strongest and most lightweight material. It can be machined easily due to its high ductility, and is relatively cheaper when compared to many composites or titanium. It can also be strengthened further by either alloying it with other metals such as copper, magnesium, manganese, and zinc, or subjecting it to cold or heat treatment.
When exposed to air, aluminum's tight chemical oxide bond means that it is sealed from the environment, making it highly corrosion resistant. Aluminum can also be finished in a wide variety of ways to suit an equally wide array of purposes, and its high electrical conductivity makes it the ideal raw material for many applications.
The most popular aluminum alloys used in the fabrication of aerospace parts include:
Aluminum alloy 7075 (aluminum/zinc)
Aluminum alloy 7475-02 (aluminum/zinc/magnesium/silicon/chromium)
Aluminum alloy 6061 (aluminum/magnesium/silicon)
Which alloy is chosen depends entirely on the purpose of the end part. Many aluminum components on aircraft are merely decorative, while others are highly functional and require specific properties.
Stainless Steel Parts for Aerospace Applications
Stainless steel is an alloy made by creating an alloy from steel and chromium. The strength of the stainless steel correlates directly with the amount of chromium contained in the alloy. The higher the chromium volume, the stronger the steel.
Although stronger than aluminum, stainless steel is typically also quite a bit heavier, hindering its widespread use in aerospace applications. However, stainless steel parts possess two main advantages over aluminum:
Stainless steel is highly-resistant to corrosion.
Stainless steel is stronger and more resistant to wear and tear. Stainless steel parts can handle scratches/impact damage much better than aluminum parts.
Stainless steel alloys have found increasing usage in aircraft components that require great strength but can handle the increased weight. The high corrosion and temperature resistances found in stainless steel make it suitable for a range of aerospace parts, including actuators, fasteners, and landing gear components.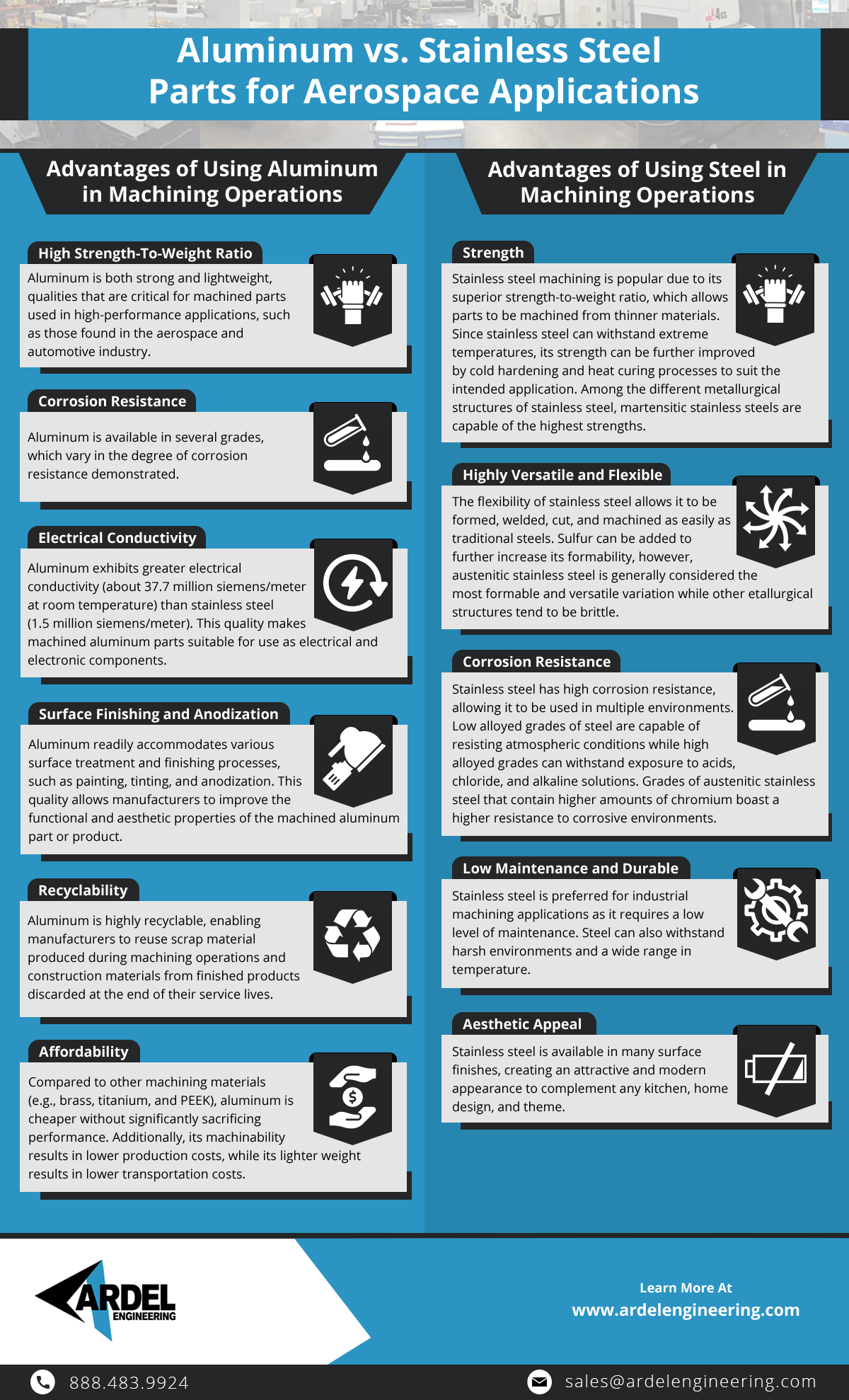 Learn More from the Aerospace Machining Experts
Aluminum was widely used across the aerospace industry in the past, but in recent years, the aerospace sector has broadened its horizons and begun relying on a much larger range of materials. The benefits of aluminum alloys, however, still keep aluminum in the game as a major resource for the aerospace sector.
Its greater weight notwithstanding, stainless steel has seen increased usage in aerospace applications recently, particularly for parts where high strength, corrosion resistance, and temperature resistance are needed.
Ardel Engineering & Manufacturing specializes in the precision CNC machining of high-grade materials for aerospace and most other industrial sectors. Contact us to learn more about how we can help with your precision aluminum and stainless steel machining needs.