We've noticed a twofold trend in today's manufacturing world.
On the one hand, there's an ever-growing need for ever more specific, individualized products and components with high precision tolerances. Oftentimes the work order involves designing or fabricating a one-off or a prototype for a highly customized application. But on the other hand, there's another trend at work: the need for ever more competitive pricing; the need for greater production volume that uses leaner manufacturing; the need for higher quality parts and products with lower environmental impact, quicker turnaround, and the like. Somewhere in the middle of all this turbulence and paradox, a manufacturer needs to stand on solid ground, and know what he or she is all about.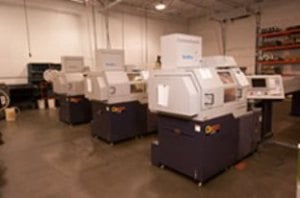 Most companies can only be one or the other: either a high-volume, low-cost manufacturer and assembler, or a highly specialized fabricator of elite one-off designs and short runs. At Ardel Engineering, we manage to have both these capabilities and still somehow come out on top. We've accomplished this by using three ingredients: the first, top-grade equipment; the second, an organized and efficient workspace; the third, a well-trained, highly-educated staff that knows how best to produce both types of orders.
Let's start with some of the equipment we carry. We have a Swiss Screw department with four 20 mm and one 32 mm Citizen Swiss Screw machines, all of them well-suited for precision and fast turning applications. Our 15 vertical CNC Haas machines are ideal for production runs of all sizes, and come equipped with pallet changers that eliminate unnecessary production downtime. Our two FANUC wire EDMs are perfect for adding those final, finishing touches to our handiwork. Finally, all of our handiwork can be inspected quickly and precisely using our state-of-the-art Zeiss CMM and its Calypso software package.
Another key factor, as mentioned previously, is our commitment to organization. Our engineering/manufacturing facility is divided into four distinct departments, each with a highly specialized role. In addition to our Swiss Department, Production Milling Department, and EDM Departments, we have a Quick Turn Department, whose sole job is to work on complicated prototypes and one-offs. Our Quick Turn Department lets the other departments concentrate on performing other, larger assignments, thereby saving us from inefficient multitasking. Our discipline and work ethic allow for an average turnaround time of merely 2-3 weeks for most assignments.
Finally, there's our well-trained staff. Proficient in the latest software programs such as GibbsCAM for big-volume CNC mill and Swiss Screw machine jobs, and Pro-Engineer for designing custom models and highly accurate prototypes, they can muster the expertise and patience to complete orders thoroughly and on-time – however complex and however high-volume. Learn more about our facility, capabilities, and services today.