Automotive, consumer electronics, and IT are among some of the most popular applications.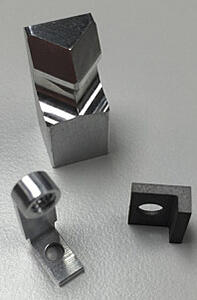 Swiss screw machines are a type of automated lathe capable of machining turned parts. It was invented in Switzerland to manufacture precision components, and is operated by mounting a work piece on a rotary slide. These machines are better than their counterpart, Turret screw machines, which are operated by mounting the work piece on a vertical ram and working it into the lathe.
Of the two varieties of screw machines, the Swiss variety is far better suited for machining modern precision components. Swiss screw machines themselves are designated into two types—CNC and automatic.
Automatic and CNC Swiss Screw Machines
Automatic Swiss screw machines are operated with a disc cam that rotates tools to the work piece bay. The work piece is held in place by a collet. The tools are moved by the disc cams in a radial motion, which also changes the position of the headstock to account for any longitudinal discrepancies that may occur with the work-piece. This screw machine also features very close spindle collets, which controls the amount of deflected debris.
The CNC Swiss screw machine, also known as a CNC turning machine or lathe, is operated by a CNC unit rather than a disc cam. This allows increased direction and additional operations on the same piece in a shorter time period. CNC machines also allow greater precision and speed than automatic Swiss screw machines, rotating a part at up to 10,000 RPM and an accuracy level of 0.0002 to 0.0005 inches.
Benefits to Automotive and Electronics, Among Others
Swiss screw machines are widely used for manufacturing precision products for the aerospace, automotive, medical, and electronics industries, including many others. This is because Swiss screw machines offer faster turnaround. Automatic Swiss machines can typically take two to three days before they are fully set up for production, whereas the CNC types can be ready for a new project in a day or less.
The rapid turnaround time for CNC Swiss screw machines also make them ideal for prototyping, since a part can be precision machined and ready for full production faster than with other methods like stamping. These machines help increase efficiency throughout your project, especially since they can be run as constantly as you need them, even over 24-hour periods.
The largest advantage to CNC Swiss Screw machines is the addition of the back working or sub-spindle along with cross hole and milling capabilities. Small (traditional mill shaped) parts can be very effectively produced with this equipment. Adding cross holes, flats and slots in a single operation is what really separates Swiss machines from Automatics. (add picture I sent?)
Swiss Screw Machining at Ardel Engineering
At Ardel, we are industry leaders in CNC Swiss screw machining techniques. Our state-of-the-art equipment allows us to handle your project quickly and efficiently in order for you to get your product to market as soon as possible. Most importantly, our machines, coupled with our industry leading expertise, ensure reliable high quality in every product that leaves our facility.
Visit us today to browse our capabilities, and contact us for any questions with your next precision machining project.